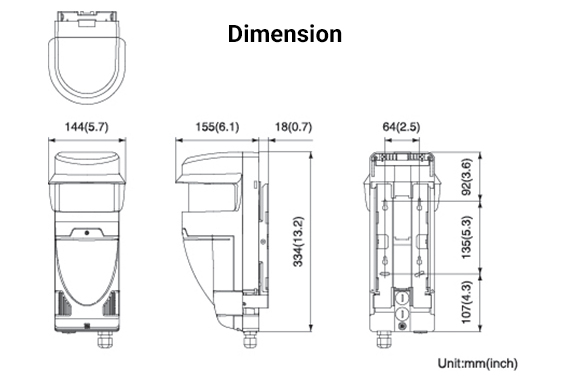 The REDSCAN RLS-3060 series is an innovative laser scan detector. It can detect a moving object's size, speed and distance from the detector and process that information with a unique algorithm, which results in high reliability detection with minimal false alarms. The detector can also be mounted vertically or horizontally according to the application and site conditions.
The REDSCAN RLS-3060L is a lower cost, high performance advanced intrusion device with four adjustable detection zones and linked outputs for PTZ camera control. It brings detection solutions for: fence line, building protection, rooftop and narrow boundary zone with simplified controls.
The REDSCAN RLS-3060L can be installed directly on an IP security network and integrates with all major Video Management Software (VMS) platforms.
30m radius for 190 degrees
Vertical and horizontal mounting
Unique detection algorithm
Automatic area setting function
Environmental disqualification circuit
Anti-rotation function
Anti-masking function
4 independently adjustable detection areas and 4 linked outputs for PTZ camera control (on analog connection and IP connection)
Fog cancellation algorithm (patent pending)
Analog (dry-contact) and IP connection
Environmental resistance function
Non detection area adjustment
Scene selection (outdoor and Indoor)
Applications
Buildings
Perimeter
Approach
Roof / Ceiling