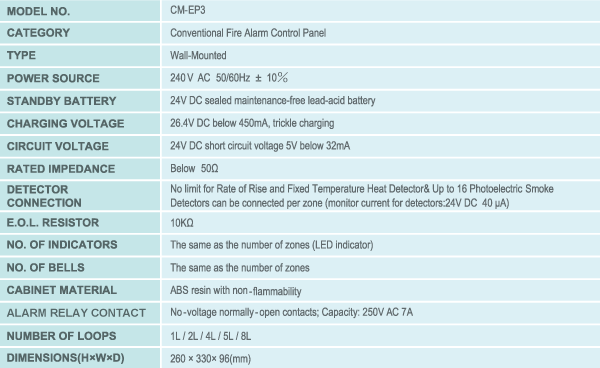 Advantages
Fire Alarm Control Panel
Integrated circuit indicators: Each circuit is equipped with monitoring functions on fire, circuit break and short circuit, respectively..
Digital error detection for voltage source: Whenever a voltage error is detected by the system, an error alarm will sound and an indicator will light on.
Two-stage alarm delay function to prevent false alarms: When the detector activates for the first time, the system will automatically reset the detector. If another signal is received in a short period.
"Self-Reset" mode and "Non Self-Reset" mode are available for operators to set if they want the automatically reset the fire alarm signals after the fire extinction or not.
Digital electronic switches are used for dust proofing and a long service life..
Many zone circuit configurations are available: 1L, 2L,4L,5L,8L(please contact us for other configurations)
Housed in fireproof ABS enclosure.