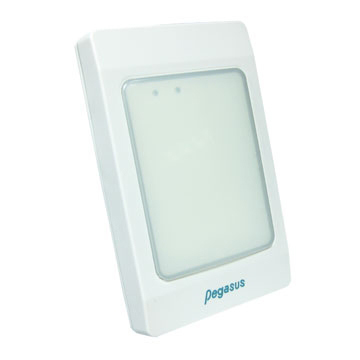 Features
•Read 125 KHz proximity card with EM chip internally for standard model.
•The system parameters are stored in non-volatile memory for 10 years data
retention as power off without any external power supply.
•1000 card holders with 8 digits I.D. number by learning reads.
•The door released time, door monitoring time could be freely programmed for 1, 5
, 10 seconds or normal open/normal close.
•With exit push button for exit or remote exit control.
•Low power CMOS CPU with watch-dog function to assure best performance.
•ABS case for easy installation.
Specification
•Dimensions: 118(L) x 75(W) x 17(H)mm
•Net weight: 98g ? 5%
•Power supply: DC 12V?10%, 40mA(Standby) / 70mA(Work)
•Operating temperature: 0? ~ 70?
•Operating humidity: 10%~90%
•Card standard: EM 125KHz
•Waterproof: Yes